Conversion services in Phoenix AZ & beyond
When you are going to hire a company for a conversion service in the Phoenix area, we know that you may have several questions about why you should choose our contractors. Below you can read some of what makes us your best choice for converting your garage, carport, attic, patio, or porch. (Scroll down to read it all.)
Our team of experts will convert your garage, carport, porch, patio, or attic in Phoenix.
Our Arizona home renovation team began as specialists in the field of emergency restoration services. That gives us a few clear advantages over most contractors that offer conversions in the Phoenix area (and the advantages are big ones): our speed, our ease complying with insurance company guidelines (and city codes), plus our respect for regulations that effect the future resale of your home.
Conversions of Garages and Carports in Arizona: remodeling vs full conversions
Need to convert your carport in to a garage in Phoenix? To read about why our carport conversion specialists can do a better job for an affordable price, click here: conversion of a carport in to garage. By the way, if you have a carport with a metal roof (and metal posts- like is common on mobile homes in Phoenix), then you might be interested in a quick conversion to a garage with metal walls and a metal door (although we recommend that you read this article first to get better informed: "Should I convert my metal carport in Phoenix to a metal garage?")

When planning to convert an existing garage for use for some purpose besides storage, that service is uniquely distinct from other conversions (of a patio or porch or attic) because converting a garage can involve the permanent elimination of the ability to store a vehicle in the area that had been used as a garage. That may not seem like a big deal until you consider the potential consequences. In many cities in Arizona, an improper garage conversion can result in a legal penalty (fines), prevention of a resale of the home, plus a voiding of your home insurance policy (which can be a very unpleasant surprise in the event of a costly incident that the insurance company refuses to cover).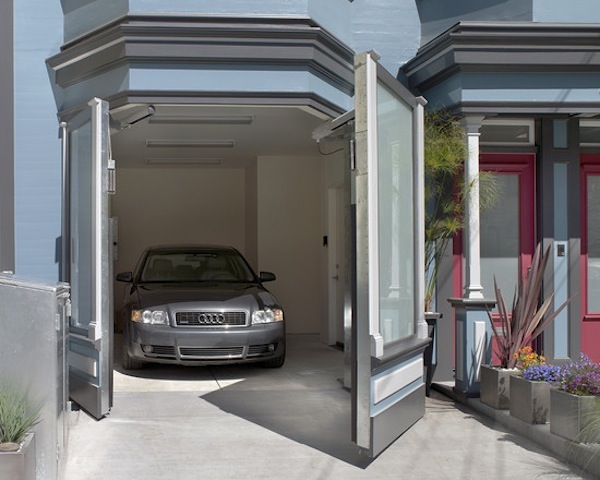 There are two reliable ways to avoid those problems: either to build another addition (such as a carport) to meet the requirements for covered parking or (a cheaper option is) to retain some form of garage doors that *COULD* be used to store a vehicle. You are not required to own a car or to store it in the garage, but you may be required (in many cities in AZ) to have some type of covered parking available at your residence. If there are moving doors that can open in to a covered garage, that fulfills the regulation. The doors may have lots of windows and may not even like doors at all, like in the example pictured here. (More typical examples of partial garage conversion are shown below.)

So, we have a special page just focusing on why some people in Arizona may prefer a partial remodel of their garage over a full conversion. To read about that, click garage conversions vs garage remodeling. For people who would like for us to perform a full conversion of their garage in to some other living space, here is a page about why people in Arizona have been so grateful that they hired our renovation specialists to convert their garage in Phoenix AZ and beyond: garage conversion services in Arizona.
Need a full garage conversion
or just a partial garage remodel?

With a garage remodel (or partial conversion), you can have a huge increase in natural light without removing the ABILITY to open the garage to the driveway. We can replace standard garage doors so that you have window panels or even a wall that is entirely windows. If relevant, we will suggest adding extra insulation (to make the room easier to cool in the hot Arizona summer).


Have you made sure your insurance policy will cover the conversion remodel?
Next, from our decades of experience with damage restorations (from fire, hail, wind, water, etc), we are used to dealing with insurance companies. Many people do not know how big an issue that is until "too late." In particular, if you have questions about how to make sure your renovations conform to the restrictions of your insurance policy, ask us.

Basically, conversions that do not follow the guidelines of your insurance coverage can VOID the protection of your insurance. You do not want to have to fight them over this. You do not want to have to hire a lawyer and still risk losing the case.

So, why not avoid the hassles and do it the right way by letting us include your insurance company throughout the remodeling process? When you hire a renovation contractor in Phoenix, Arizona that works closely with your insurance provider, then you will never need to worry about the insurance company delaying or denying a future claim relating to an undocumented conversion that they refuse to insure.


Do you have specific questions about building codes in Phoenix, Arizona
In our decades of work in Phoenix AZ, we also have developed great relationships with the staff of the city governments who issue permits for home renovations (and who conduct inspections for remodeling or converting garages, carports, attics, porches, & patios). Some projects will need electrical and plumbing inspections in addition to the other required inspections. The process of dealing with the paperwork and the inspectors can be stressful for many homeowners in Phoenix. Wouldn't it be nice to have someone else to handle all of that for you?

If someone is having an issue with selling a home that has been remodeled without the required permits and inspections, we can help. In many cases, there are loopholes that are totally legal and can save you (or the home buyer) many thousands of dollars plus lots of time. Title companies will not tell you about these details and even most real estate attorneys may not be aware of them. However, in other cases, your best solution may be to hire our compliance specialist who supervises renovation projects for the specific purpose of bringing your home in to compliance with the relevant building codes (and insurance company restrictions). For information on how we can help you if you are experiencing complications because of an unpermitted conversion or renovation, contact us now by clicking this link: contact.


The best remodeler in Phoenix for a legal and FAST conversion
Besides our ease at working with insurance companies and with precisely following the city regulations for conversions in Arizona, here is one more big advantage that people hiring us to remodel their home often will report to us: speed. From decades of expertise, we know what we are doing, so we can relax, plan well, and then execute with precision. That allows for us to do big renovations faster than many remodelers in AZ would finish a small conversion.

In short, we provide better quality in a shorter time than other remodeling services in greater Phoenix AZ. Our builders are used to taking an existing structure (in ANY condition) and extensively renovating it. We are used to coordinating even the most complex remodels and our workers are experienced, organized, disciplined, and fast.

Again, from decades of doing major repairs fast in the restoration industry, our crews combine precision, speed, and quality, so the remodel service will be completed fast. (We can even build garage additions, carports, or other new buildings from the ground up.)


Only hire the best contractor for your conversion service in Phoenix, AZ!
When remodeling your home in Arizona, wouldn't you value using a construction contractor that has extensive experience with insurance companies and maintaining policy coverage, with carefully following city regulations to avoid costly fines and ensure smooth resale, and with executing the actual service quickly and well?

Our remodeling estimators, renovation supervisors, and conversion specialists are all focused on earning your business and your highest recommendation. We will earn your respect before, during, and after your conversion service. Thank you for your business and we look forward to speaking with you today, so contact us now!

The most important thing with your conversion service in AZ is that you are satisfied with the results for many years, right? If you would like us to answer any questions or provide you with testimonials for our conversion services, contact us now by clicking this link: contact.


What is the cost and resale value of a conversion in Phoenix, Arizona?
This report shows a chart of several renovations along with the average cost and average increase to resale value. The data in those reports include nationwide averages. To schedule a customized estimate for the renovation that you want us to do for you, call us at (602) 464-4446.


Our experience will keep the process simple and smooth
When you hire our experts to convert your garage, carport, attic, porch, or patio in Arizona, you will feel the interest and confidence of our specialists as we speak with you about your priorities and questions. It can be very exciting for you to see the project get completed so smoothly and quickly. You may also be quite relieved to find out how little the entire project will be. Contact us today to schedule your consultation.



Conversions in Phoenix, AZ:
Garage, Carport, Attic, Patio, Porch
To ask a question or to request that we contact you to schedule
a free estimate, click here now: contact us about conversions in AZ